Insights for Authors From American Booksellers!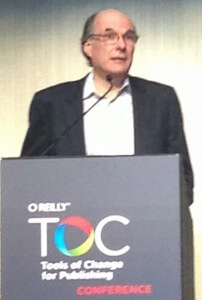 Everything about the book business is changing; but to the surprise of some, brick and mortar stores are creating new and innovative ways to reach their customers…both online and in their stores. During February's Tools of Change for Publishing in NYC, we had a chance to learn from Oren Teicher, CEO of the
American Booksellers Association
. Oren (pictured here) has been a long time advocate for independently owned retailers. Here are some inspiring points for authors:
Forty-three independent book stores opened in 2012 and 2013 is showing strong indications of a Renaissance of indie book shops.
Sales for independent booksellers have been increasing every year since 2010. Last year, sales increased by 8%.
Through a partnership with

Kobo

, indie bookstores now offer e-readers and accessories for readers who prefer e-books. Kobo was a sound choice for ABA in that it's an open platform not locked into one service or device like Kindle or Nook.
The Independent Bookstore Advantage for Authors
Independent booksellers have been making themselves an essential catalyst to book sales by offering what the Internet has so far failed to do; provide intimate discoverability. Your friendly indie bookstore still offers readers the singular experience of cruising the aisles and discovering something new… an appealing book cover that beckons, a new author, a local author, a recommendation from the trusted bookshop owner. Most indies now offer in-store pickup so readers can order online and pick up books the same day, or readers can take advantage of the new Kobo partnership if e-books are their thing.
For authors, whether traditionally published or indie, reaching out to independent booksellers offers you vast opportunities:
Independent booksellers are open to author readings and signings and have the flexibility to host special events for readers and writers
Indie book shops encourage meet-up groups for both writers and readers
Independents communicate with other independents via their own networking through the ABA and regional groups – one can be helpful in recommending your book to others!
They also make "official" recommendations through the

Indie Next List

which offers "Great reads from booksellers you trust" and they report books that are selling in their stores to the

Indie Bestsellers List

, which is the most current snapshot of what's selling in indie bookstores nationwide. This lets everyone (other bookstores, media and readers) know what independent booksellers are recommending—and what independent customers are buying.
Looking to reach out to indies in your area? Visit the

ABA's Bookseller Member Directory

to search for an independent bookseller near you. Now, tell us how you're reaching out to the independent booksellers with your book, and be sure to share this good news with other writers!